Friday Links: The silent crackdown sweeping through Delhi in the guise of probing the riots conspiracy
A Scroll.in Special Report.
When the Citizenship Act protests broke out in Delhi, he did not bother joining them. He was far too busy tending to business. But "hamdardi ke tehat" – out of sympathy – he distributed food at two protest sites, he said. "A lot of people were distributing food out of hamdardi," he said. "So, I also did it."

That was his extent of involvement in the protests, he insisted.

But a policeman still landed up from the local thana at his house at the peak of the coronavirus-induced lockdown, asking him to report at the Special Cell's Lodhi Road office the next day.

There, he said, the police "tortured" him a lot, constantly subjecting him to pressure, although, he clarified, it was never physical. "Yeh kar denge, wo kar denge. We will do this, we will do that. We will implicate you in the riots," he recalled his interrogators saying…

Finally, after several days of this ordeal, he said he agreed to be a witness and give a statement dictated by the police. "I said what they told me to – I had no choice," he said. "There was no help available as everything was shut. Even the courts were shut for me to go there for help."

"They did everything in the lockdown so that people couldn't help each other," he added.
On usual Friday editions of The Political Fix, we bring you a Q&A with an author or an expert on Indian politics and policy. This week is a little different. Instead of the regular interview, we're giving you a look at Scroll.in's Special Report on the Delhi Police's investigation into the riots that took place in India's capital in February.
Over the last few months, it has become clear that the Delhi Police investigation deliberately ignores a number of the key players whose actions led to the violence in February – such as a Bharatiya Janata Party leader who stood in front of a police officer and threatened to take the law into his own hands.
Instead, it is attempting to depict the anti-Citizenship Amendment Act protests, in which thousands took to the streets between December and February in defence of the Indian Constitution and against the government's efforts to introduce a religious test to citizenship, as a large-scale conspiracy to engineer riots, albeit without evidence.
In this series of reports by Vijayta Lalwani and Arunabh Saikia, edited by Supriya Sharma, we hear directly from some of those who have been subject to interrogation by the police to get an idea of how they are proceeding with the investigation – and what message they are seeking to impart to those who were simply joining the protests.
Here, for example, is a young student who was questioned:
"At one point, the police brought up her religious identity as a Hindu and questioned her support for the protests. A woman police officer allegedly told her: "Wahan pe bahut sher bante the, yahan hekdi nikal gayi?" At the protests you were like lions, now you have been deflated.

"It felt like they hated Jamia students," the student said. And they harboured deep seated prejudice against Muslims. "Yeh sab Musalman milke tumhe pagal bana rahe hain," she claimed the police said. These Muslims are all fooling you…

The student said the police let her off, saying they were doing her a favour by not arresting her.

But the whole experience has left her feeling shaken and powerless. "For a short while, it made me question myself," she said. "Am I still in a democracy? They made me question my harmless intentions."
You will find links to all of the pieces in the series, 'A Silent Crackdown', below.
The Political Fix will return to regular programming on Monday, when we'll take a look at what is happening in Bihar, where elections are due later this month.
Meanwhile, here's a reminder:
If you'd like to support Scroll.in's independent journalism, and help ensure we go beyond the headlines,
contribute to the Scroll.in Reporting Fund.
A student. A food seller. A creative producer. A scientist. All they have in common is that they took part in the Citizenship Act protests last winter. Months later, the Delhi Police called them in for questioning in its

controversial riots case

, which blames the communal violence that took place in India's capital in February on a conspiracy by Citizenship Act protestors to overthrow the Narendra Modi government.

Over 70 protestors have been interrogated in the case. Below, you will find the stories of seven of them.
First read the bird's eye view of the case which has been described as a witchhunt against protestors

here

.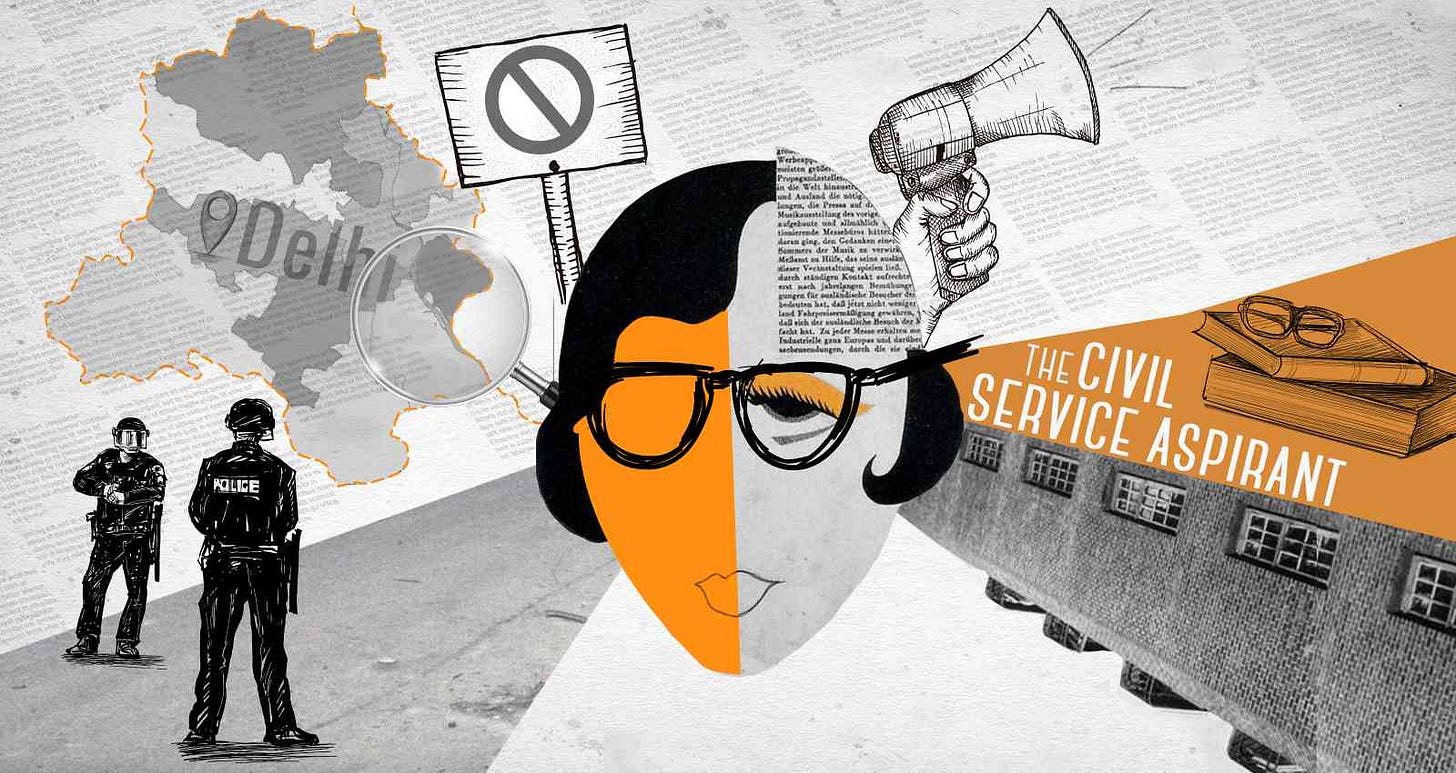 The police would constantly grill him about the other protesters he had spoken to over the phone, he said. "I said sir normally meri baat hui thi. He replied 'Bhosdike chutiya samajh ke rakha hai kya humein?'" [I said we would speak about regular things. He replied: 'Do you think we are idiots?']

And there were, of course, jibes about his religion: "The problem with you Muslims is that you get instigated very easily; you turn to your jihad at the slightest of provocations. Where did the biryani at Shaheen Bagh come from? Did Allah drop it himself from the skies?"
"The police made me memorise a statement…what I had to say and all," he continued. "Their argument was that since Rahul Roy was the one who created the group, he was the main conspirator. So, the line that they had written down for me was 'yeh sab Rahul Roy ne karwaya tha' – all of it was orchestrated by Rahul Roy."

The interrogation, he said, was nerve-wracking. "While the police didn't misbehave, or torture me, it was a time of great stress because I knew if the police wanted me to implicate me, they could have done in a thousand ways," he said. They told me, 'Spill the truth or we will charge you under UAPA too.'" The UAPA is the Unlawful Activities (Prevention) Act, India's draconian anti-terror law, which has been invoked against the accused in the riots conspiracy case.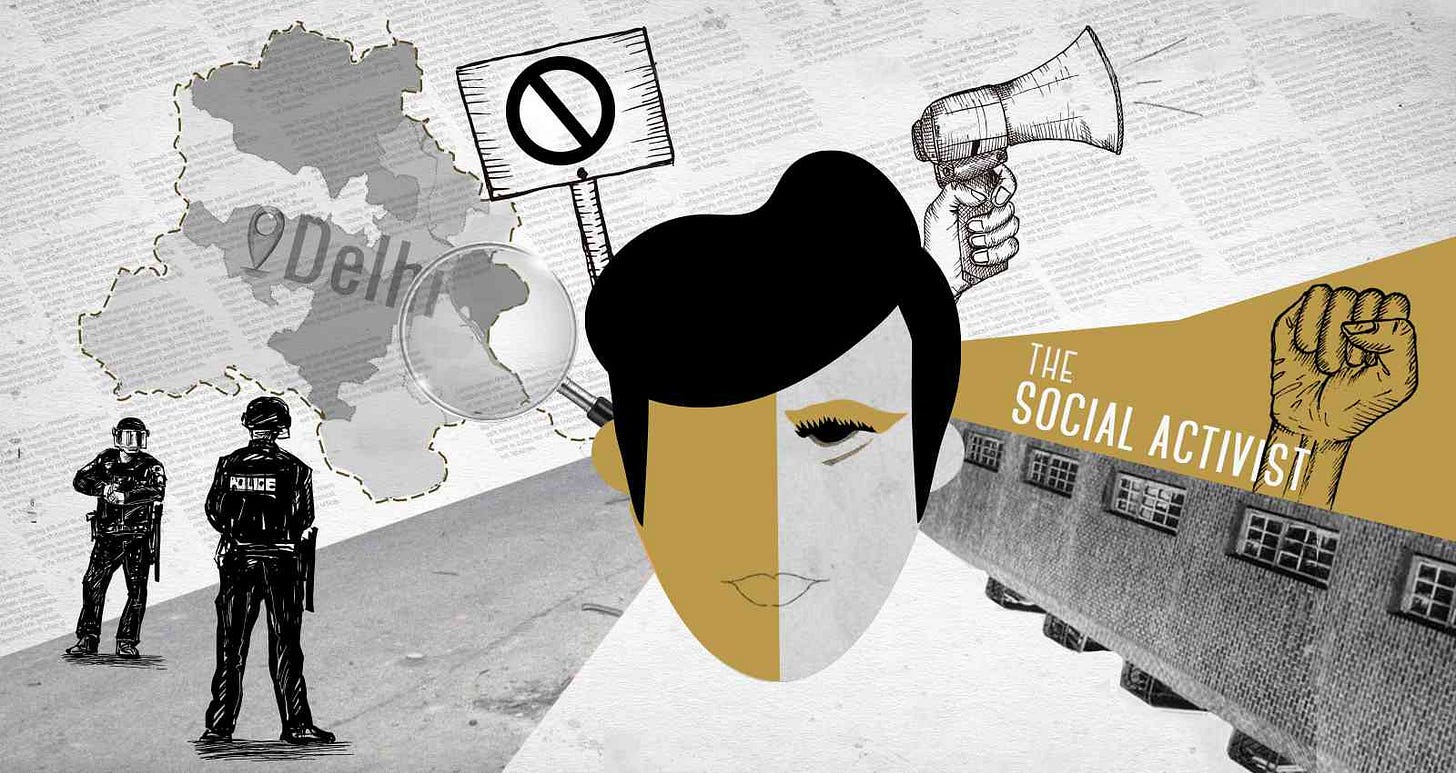 The policeman waved a baton at him, recalled the activist, saying: "Abhi iski dande se pitayi karenge." We will beat him up with the baton. "Only then will you understand and reveal what you were doing there and why."

A senior officer then walked into the room and told him custodial torture in reality was four times worse than what was shown in films, the activist alleged. "He said that they had the right to do it [torture] under the sections that they were interrogating me."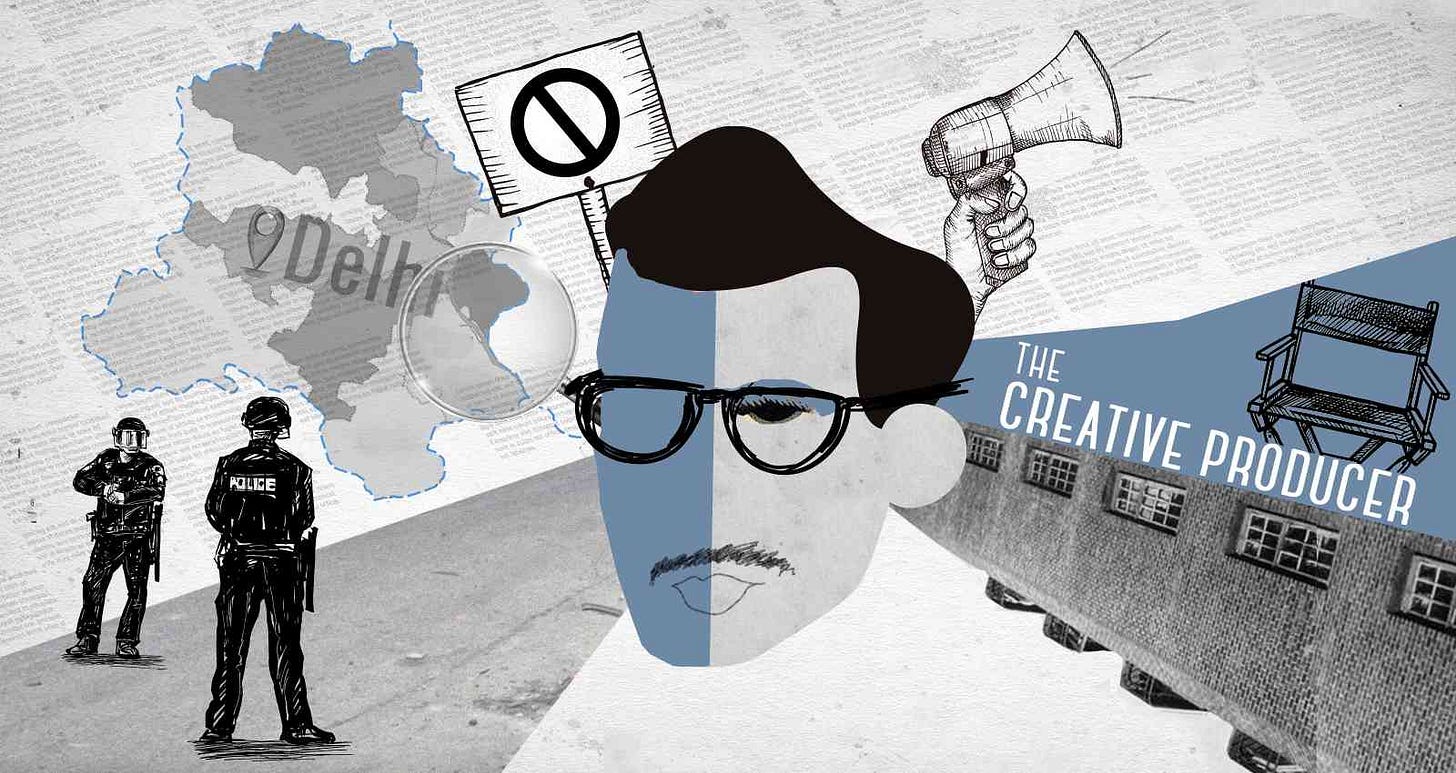 He is not an accused so far. He wasn't forced to be a witness either. The police officer eventually let him off, saying: "Aap jaise shareef log phans jaate ho in cheezon mein." Decent people like you get stuck in these things.

Yet, he is not sure if he would ever do what he did last winter. "For me, a revolution is less romantic now," he said. "The consequences are more real."

"You feel powerful in front of the state when you're with a crowd of people protesting – I would stare the police down at the protests site. But when you're in the police station being questioned, that is very different," he said. "That day if they didn't let me go that evening, I could have literally done nothing."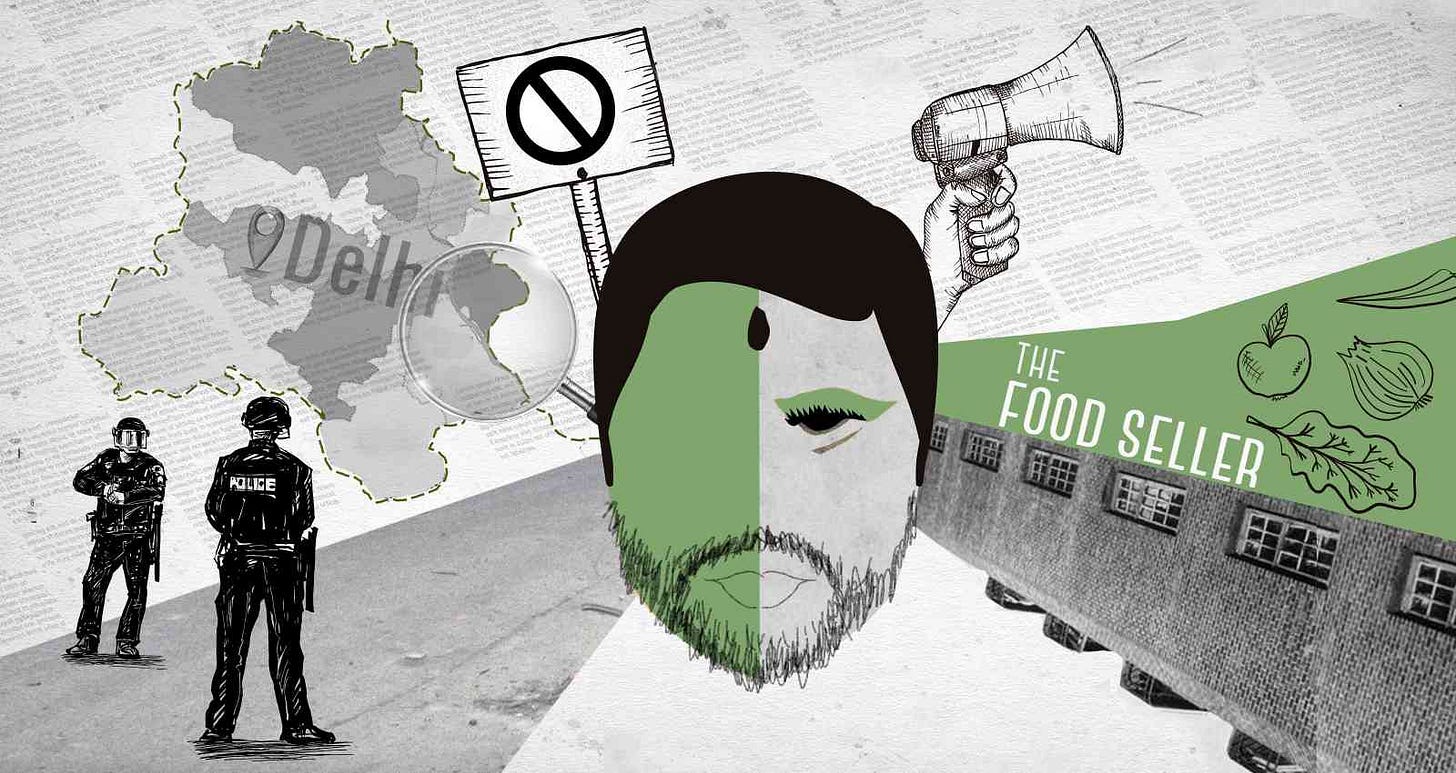 "They tutored me for two days, made me memorise the statement," said the food seller. "Yet, I only ended up saying only 50% of what they said because I just did not remember."

He feels guilty about making the statement and implicating someone who he knows is innocent. "But I just did not have a choice," he rued. "They would say: 'If we charge you in the riots case your family would be destroyed – you'll be in for at least five years without any hearing.'"

"No one is fighting for the truth. What is happening is open goondaraj," the food seller concluded."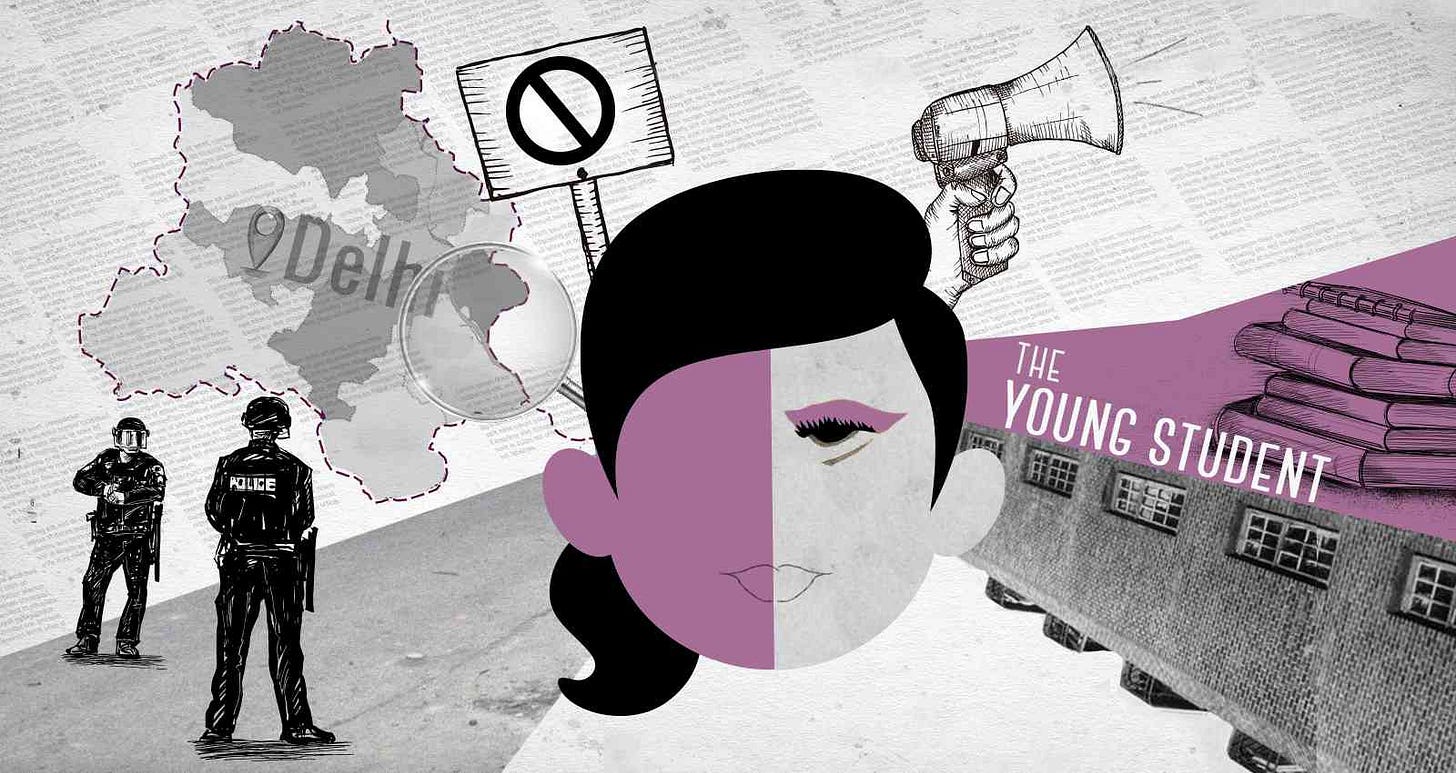 "The whole experience has left her feeling shaken and powerless. "For a short while, it made me question myself," she said. "Am I still in a democracy? They made me question my harmless intentions."

It felt like she had committed a thought crime. The interrogation "made me feel like my thoughts can be limited… Every liberating thought I had I never second guessed it but now I do."

But even in her state of paranoia, she said she is clear about one thing: the police claim that the February riots were a conspiracy by the protestors is laughable. "We set up a library on the road. Is this a sign of conspiracy?" she asked. "Are a stage and a mike a sign of conspiracy? What motive would we have to organise riots?"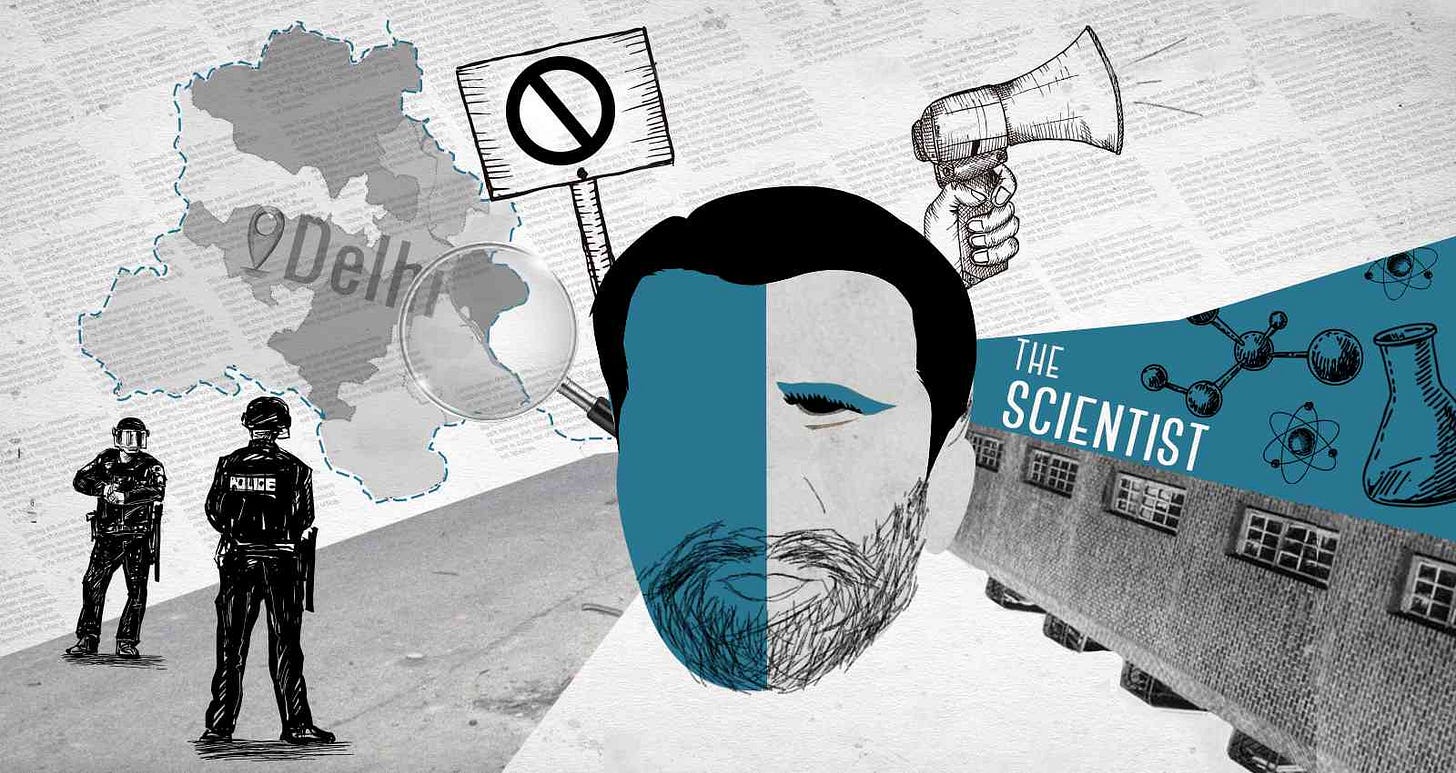 The police told him the DPSG group had conspired to create a chakka jam or road blockade in North East Delhi to spark violence. "I told them there was never any chakka jam planned," Dinesh Abrol recounted. "We knew there was a blockade and we were in fact even worried about it."

Abrol said he confronted the police: "You people were not there when you should have been." But an officer shot back: "No, no, you should have stopped [the blockade]." The scientist claims he responded by saying: "You have bigwigs including ministers who are planning and doing, can we stop them? We can only have a dialogue and talk. Were they having a dialogue, were you having a dialogue?'"

The police, he said, let the riots happen to "delegitimise the protest". "Now they are criminalising it," he added. "Dissent is being criminalised."