Are India and China going to war? Plus 5 other stories we missed while the Political Fix was away
A quick recap before the newsletter returns to regular programming.
The Political Fix is back! The newsletter took a break for the last few weeks – although you continued to get analysis from my colleagues in your inboxes (Note: This week's Monday piece was written by Shoaib Daniyal, whose name went missing from some emails).
We should be back to regular programming, with analysis on Mondays and a Friday Q&A, starting next week. But for today's issue, I thought it might be worthwhile recapping the major stories from the interim period in India.
In an odd way, though it has seemed as if there was a huge flurry of activity in India over the last three weeks, the topics have mostly remained the same. But that may have meant you missed some key developments, which we have tried to cover below:
1. China
The situation on the Line of Actual Control takes top spot primarily because more than a few experienced observers now fear that India and China may end up going to war.
Ties between the two have been deteriorating ever since May, when Indian and Chinese troops scuffled over contested territory in Eastern Ladakh. Since then, 20 Indian soldiers and an unknown number of Chinese troops died in the first military casualties along the LAC in 45 years, with military and diplomatic talks failing to make much of a difference.
This week, after more scrambling between the two armies to occupy heights around the Pangong Lake, both sides accused each others' soldiers of the first use of firearms – warning shots in the air – in four decades along the LAC. We have an explainer on where things stand here.
On Thursday, the foreign ministers of both countries agreed to a five-point plan, putting out a joint statement saying that they both want to see tensions lowered on the LAC. Whether that will actually lead to a change in the ground situation remains to be seen.
2. Covid-19
One chart should be enough to convey just how bad things are in India, despite its early, harsh lockdown and none of the downplaying of the virus that was seen from other leaders around the world.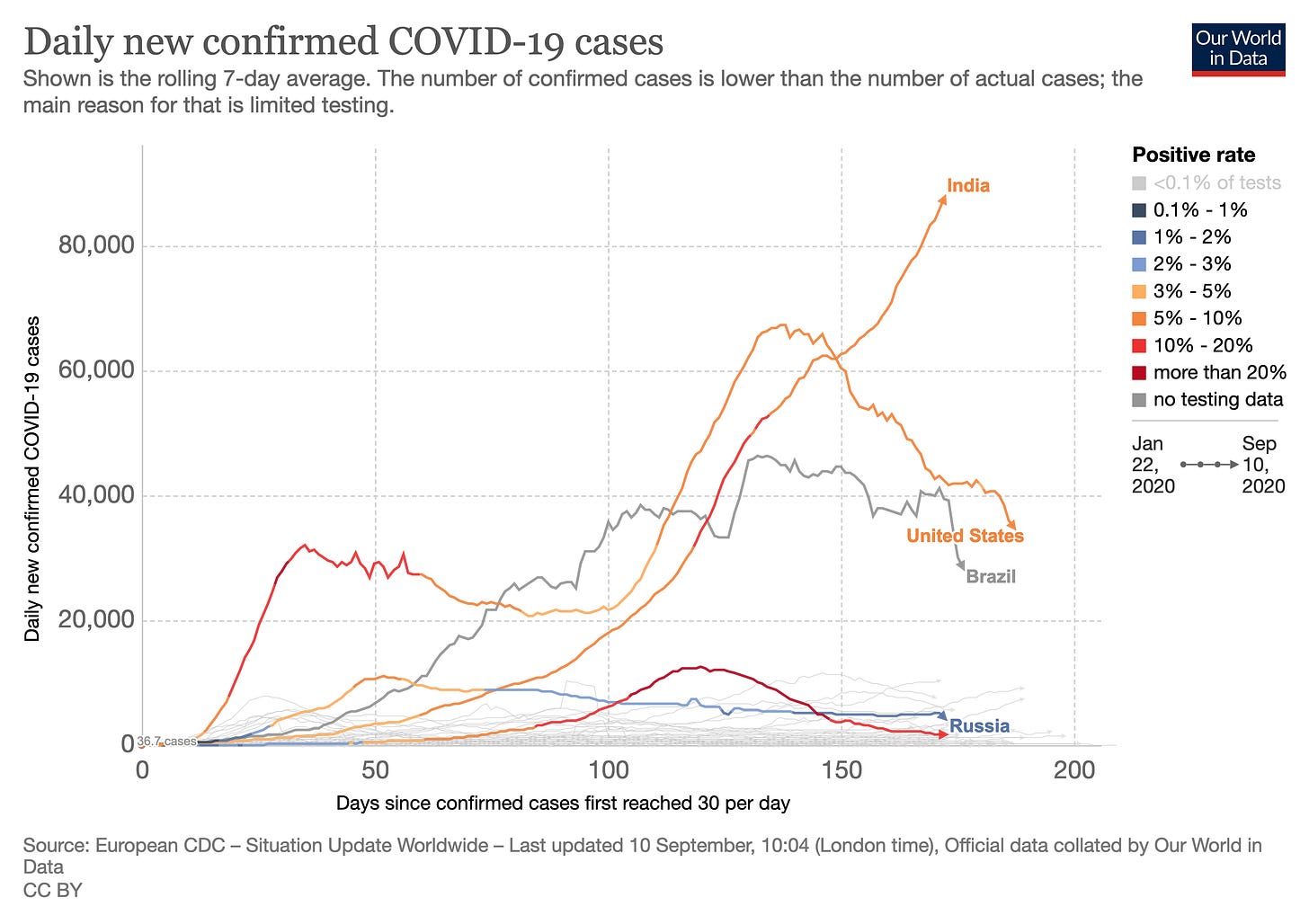 India now has by far the most new cases every single day, including more than 95,000 in a 24-hour period as of Thursday. The country has a total of 4.4 million Covid-19 cases totally and more than 75,000 deaths. The authorities have continued to point out how many have recovered from the virus – more than 3.4 million – and that the case fatality ratio as well as the deaths per million remains much lower than other countries.
Regardless, the real concern remains the fact that India's graph points very resolutely upwards, even as places like Delhi are seeing a fresh wave of cases after appearing to get a handle on numbers. India is, in fact, doing much worse than its South Asian neighbours. For now, this crisis is here to stay.
3. Economy
Which leads us to the other distressing set of statistics.
Official government data revealed at the start of September that Gross Domestic Product had contracted by a whopping 23.9% for the April-June quarter of 2020, reflecting the extremely harsh lockdown put in place at a time when India had officially only 500 Covid-19 cases.
There is a good chance that this number might even be revised further down, if the government can better factor in the impact the lockdown had on the informal economy.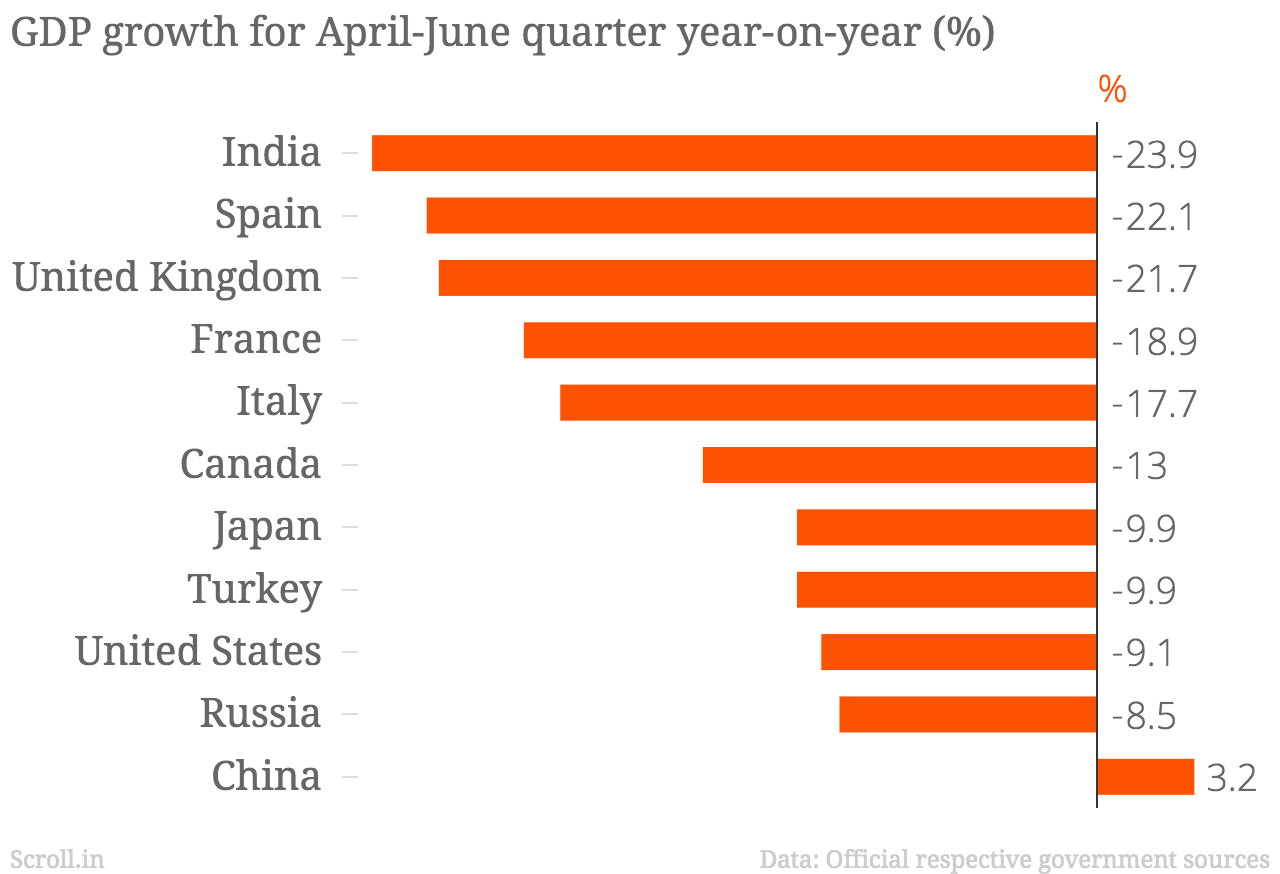 Those numbers were followed by a spate of re-evaluations by various agencies of their forecasts for India's GDP contraction in Financial Year 2019-2020. Goldman Sachs predicted a massive 14.8% contraction for the whole year, meaning it would take several years of extremely rapid growth for India's GDP to just return to levels it had achieved before the pandemic.
What ideas does the government have about this? I asked that question this week.
4. Judiciary
Justice Arun Mishra retired from the Indian Supreme Court on September 2 after playing a part in many of the major controversies that emerged out of the country's top court over the last few years.
It was the decision to assign the investigation into the death of Judge BH Loya – whose successor dropped charges against Home Minister Amit Shah in an extra-judicial killing case – that was partially responsible for prompting four senior Supreme Court justices to hold an unprecedented press conference about the danger posed to democracy.
It was Justice Mishra who wrote the order when Chief Justice Ranjan Gogoi presided over a case involving sexual harassment allegations against himself. It was Justice Mishra who presided over a bench in which his own judgment was under review. And it was Justice Mishra who described Prime Minister Narendra Modi as a "a versatile genius" and "an internationally acclaimed visionary" at an international judicial conference, raising questions about the independence of the judiciary.
At the very end of his tenure, Justice Mishra also ended up fining senior advocate Prashant Bhushan 1 rupee for criticising the court on Twitter, after repeatedly attempting and failing draw an apology from the renowned lawyer.
My colleague Sruthisagar Yamunan wrote about the Bhushan case here, and looked back at the tenure of Mishra here.
5. Facebook
A Wall Street Journal report in August revealed how top Facebook executives in India opposed taking action against hateful and violent speech by those connected to the ruling Bharatiya Janata Party, despite internal processes concluding that much of this material was hate-speech and dangerous.
The report led to a flurry of criticism of the social media behemoth and its proximity to the BJP, with Opposition politicians up in arms about the revelations.
In case you missed it in your inboxes a few Mondays ago, read Shoaib Daniyal's piece on why this was so significant:
"The newspaper claims that Facebook kept allowing hate speech by BJP politicians on its platform, wary that censoring members of the ruling party could hurt its business prospects in India…

In spite of the global scrutiny around hate speech on Facebook, it is not very difficult to understand why the social network would be wary of angering the Indian government and the party that controls it. India is, by far, Facebook's largest market in terms of users. With China walling off its own citizens from foreign social media networks, this situation will not change. In July, Facebook underlined the importance of India by investing Rs 43,574 crore in Reliance's telecommunications company Jio."
With NGOs calling for an inquiry into what these actions meant for human rights in India, since they primarily involved turning a blind eye to hateful, violent speech, I write that Indians also need to be concerned about Facebook's influence over democratic processes in the country.
6. Sushant Singh Rajput
The final story is one has been at the top of most TV news bulletins for weeks now because its elements – a Bollywood actor committing suicide, his film star girlfriend accused of helping procure drugs for him – are the stuff of pulp fiction.
But while the details themselves are both disturbing, as any suicide is, and tragic, in the news coverage and treatment meted out to Sushant Singh's girlfriend, Rhea Chakraborty, the story does also have a political element.
The film actor was from Bihar, and with elections due in the North Indian state later this year, political parties have attempted to turn his death into a narrative of a son of the soil being felled by a nepotistic, drug-addicted cartel in Mumbai, home to the film industry.
Bihar is ruled by the BJP-led National Democratic Alliance, while Mumbai and Maharashtra come under the Shiv Sena, a former BJP ally that tied up with the Congress and the Nationalist Congress Party to keep the Modi's party out of power in the state.
The BJP has even put pictures of Rajput on posters that say #JusticeforSushant, the clearest indication yet that it is hoping to derive political mileage out of keeping this story in the news, even as it remains unclear whether voters will be swayed. Even if they aren't, TV viewers have been lapping up the extremely intrusive, often farcical coverage.
Read Amit Varma's piece on why Indian TV news tends to be so problematic.
With Kangana Ranaut, a pro-government film actor who has spoken out against Bollywood nepotism in the past, also entering the fray and taking on the Maharashtra government, it is unlikely that this storyline – which many Indian newsrooms have given precedence over the other subjects mentioned in this newsletter – is going away anytime soon.
Thanks for reading. The Political Fix will be back to regular programming on Monday. Send feedback to rohan@scroll.in.